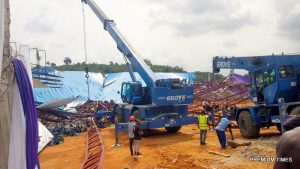 Conventional African wisdom advises one not to throw stones in a crowded market because one's relations might just have chosen that day to go shopping.
On Saturday, December 10, 2016, a church building in Uyo collapsed in the middle of the consecration as Bishop, of Apostle Akan Weeks, founding pastor of The Reigners Bible Church. This might have been as 'unremarkable' as any other building collapse in Nigeria but for one thing – the Governor of Akwa Ibom was in attendance.
After the news broke, there were conflicting stories about the cause of the collapse. In the end, two things emerged:
the building was still under construction and perhaps the process was being sped up for the purpose of the consecration;
there were no proper permissions or approval for the building.
An online media outlet reported that Uyo Capital City Development Agency had been trying to get the pastor to submit the paperwork for the building, including the building plan, structural design and environmental impact assessment report, and that construction had continued in spite of a 'Stop Work' order issued since 2013. One wonders how work continued on what was effectively an illegal site for three years without the authorities shutting down the site.
We may need a judicial inquiry to establish the exact cause of this disaster, but we can address the tragic regularity of building collapses across Nigeria. People ask how The Bribecode can make a difference to the millions of corrupt acts that create such a dangerous environment. It is simple. By shutting down private sector bribery of the public sector from the top,
we get rid of godfather influence and attract true public officers into public offices; and
senior public servants who are not neck-deep in corruption, have better discipline and supervision of their departments.
If companies and NGOs can be liquidated for serious corruption, there will be more honest supervision of public infrastructure projects as well as private structures. That means an end to the building of death traps all over Nigeria.
Our national reaction to tragedies like this is to express our sympathy and pray against a recurrence. Yet, God can hardly suspend the law of gravity for Nigeria. If there are concrete structures raised on corrupt foundations, they will eventually fall, with tragic loss of life, and we will be back on this page to mourn.
The one concrete action we can take to break the cycle is to support the Bribecode. Add your signature here www.bribecode.org/signup, and spread the word.
And may the dead of Uyo rest in peace.