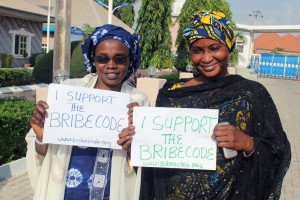 Sign The Bribecode Petition Now.
Bribecode's Goal is to end the widespread corruption that keeps Nigeria from reaching her full potential. Grand Corruption in government means that contracts are awarded to companies on the basis of their deals with corrupt officials and politicians, rather than the national interest. This means that
the contracts cost us more
the winning contractors are not necessarily the best
the resulting services, roads, bridges etc, are low quality
thousands of partly and fully paid projects are abandoned
the wrong people (who are only interested in kickbacks) are attracted into politics and public office
the right people (interested in service, in history) will either never be attracted into politics, or be destroyed by the deals they have to make to get there.
Our solution is to start at the source of the problem: the contract between the government and the companies. When the Bribecode comes into force, whistleblowers who bring information on corruption are not only protected, they are rewarded substantially. And if a company is convicted of serious corruption, it faces the penalty of liquidation, with no fine option, and with 1% of its assets going to reward the whistleblower/s. Unlike the current situation, corrupt companies can no longer depend on their partners in government to shield them from prosecution because any of Nigeria's 37 attorneys general can bring liquidation proceedings.
This will help to end Grand Corruption by making the penalty for corruption unacceptable to company directors and shareholders and creating a private sector with zero tolerance for public sector corruption. The new anti-corruption culture will grow mostly by self-regulation from the private sector and impact the rest of society, especially the public sector. Within one budget year, we can expect to see real 'transformation' in society.
Together, we can make this Happen! The 9th National Assembly has now been inaugurated. We must tell our lawmakers our priority for this National Assembly: The Bribecode, not another law to increase legislators' salaries. With the Grand Recall, we must use our constitutional right to Recall lawmakers who oppose the Bribecode, perhaps to preserve their access to 'Ghana must Go' bags from corporate lobbyists.
Any Questions?